When a house calls for a redesign, it is mostly because the homeowners are ready to put a little personality into their space. That is exactly what Corinne Ekle did for this residential home in Stapleton. A family with two active (adorable!) twin boys called for some changes in their home that required a designers touch!
BEFORE PICTURES!!
First impressions are important. A punch of personality was needed to turn their 'builder beige' interior into a home that represents them today. For the entry, two striped benches now flank the new entry console for a stunning landing zone where the two boys can put on their shoes. Navy and white storage bins keep things tidy for the family. Adding a circular mirror and lamp breaks up the rectangular angles giving the space a sense of balance
The Dining room was also in need of a personality overhaul. The rug was the color inspiration for the whole room. A stunning aqua color was placed on the walls while a burnt orange hue was chosen for the two host chairs. If you glance up, you will notice the wallpapered ceiling adds texture and dimension to a usually blank canvas. The metallic ceiling now sparkles above the new chandelier. It is stunning! A large mirror reflects to beauty of the space and gives the illusion of a larger dining area.
The living room is in transition as long as the boys are growing. The motto here is if you don't need to replace it, don't! The two sofas are very much loved by the kids and the homeowners plan to invest in new furniture once the boys are grown. For now, the two sofas work great with their beautiful family rugs. The sofas were reconfigured to face each other and two new leather chairs were purchased. Suddenly the space becomes open and inviting! Family tv time has now turned into conversation time which is a plus in any parents book!
Two areas in the home where the boys enjoy sharpening their creativity is in the eat in kitchen and the loft. Storage was important to keep some of the toys contained during family gatherings and craft time. A rope lighting fixture picks up the Nantucket theme and a sisal rug was added for easy cleaning. Upstairs in the loft all new furniture was added to create a fun place for the boys to read books as well as for mom and dad to enjoy their morning coffee.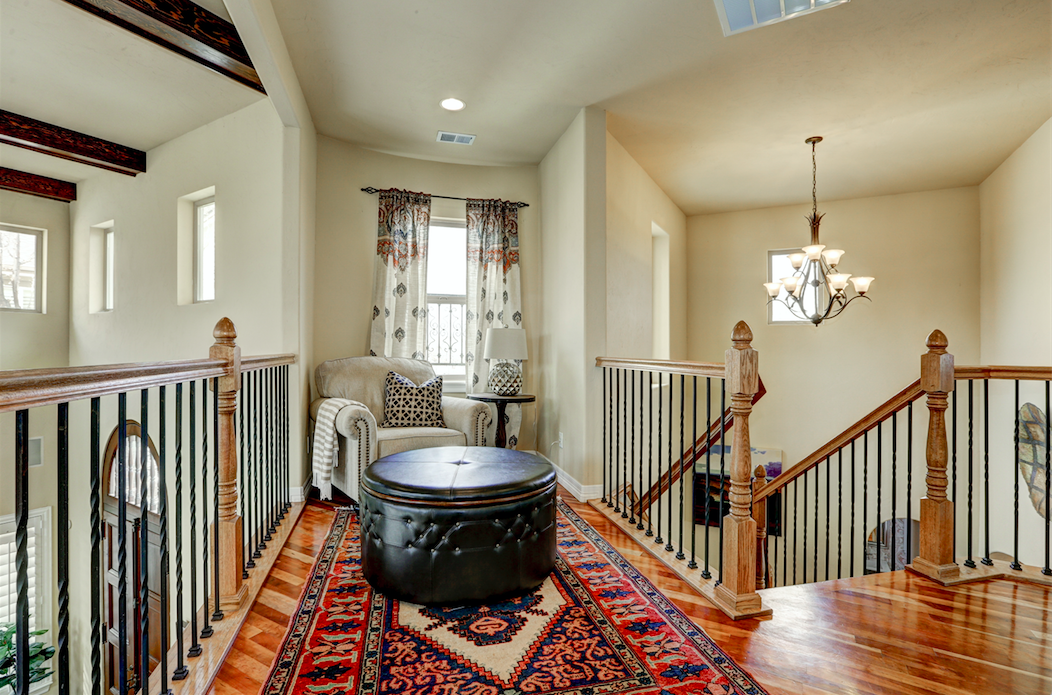 The powder room was the last to get a personality makeover. Wallpaper was chosen to create a striking impression. This paisley pattern set a fun backdrop for the whole space. The new gray vanity helps to anchor the space and pull out the great colors in the wallpaper, and lighting to up the style ante in this powder room!
Sometimes the most minor redesigns pack the biggest punch! It is important for a home to showcase the homeowners personality, and this one sure does!!